Alexandra Laufer Lobo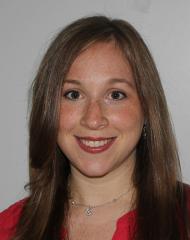 Alexandra Laufer Lobo, M.S. CCC-SLP
Alexandra co-founded Dramatic Pragmatics Speech and Language Center in 2008. She co-developed the Dramatic Pragmatics methodology and continues to create new strategies and concepts for social communication groups for both children and teens, individualizing to meet each client's unique needs. She has vast experience working across the age-span helping clients to maximize their communication abilities. Additionally, she brings her creative and unique expertise in how to reach and empower teens and young adults to acquiring more effective pragmatic language and social skills. She has consulted locally and internationally on the use of the Dramatic Pragmatics methodology.
She received her Masters Degree from Boston University. Before re-locating to NY, Alexandra worked at The School for Accelerated Learning in Waltham, MA from 2005-2008, where she created, developed and implemented a daily, school-wide pragmatic language/social skills curriculum for elementary through high school students with language and learning disabilities that impact social development, as well as provided daily individual speech/language therapy. Her experience in working in a school setting has helped her to make speech, language and pragmatic therapy most effective for carry-over for academic and social success in the school environment. Additionally, Alexandra worked at The Ely Center in Newton, MA, a private practice specializing in social language development from 2004-2008, where she led social language groups for children, adolescents and young adults, provided individual therapy and assisted with consultation to local school districts.
Over the summers, Alexandra co-directed Camp Goodtimes, a former Massachusetts program for social skill development, where she trained and supervised the staff in using the most effective social skill treatment interventions. At the Drama-Play Connection, another summer program for social skills, Alexandra was in charge of implementing their pragmatic language program. Alexandra is PROMPT trained. Specific clinical interests include pragmatic language disorders and social skill development, the interplay between language and executive functioning, Childhood Apraxia of Speech (CAS) and school-aged language and learning deficits.